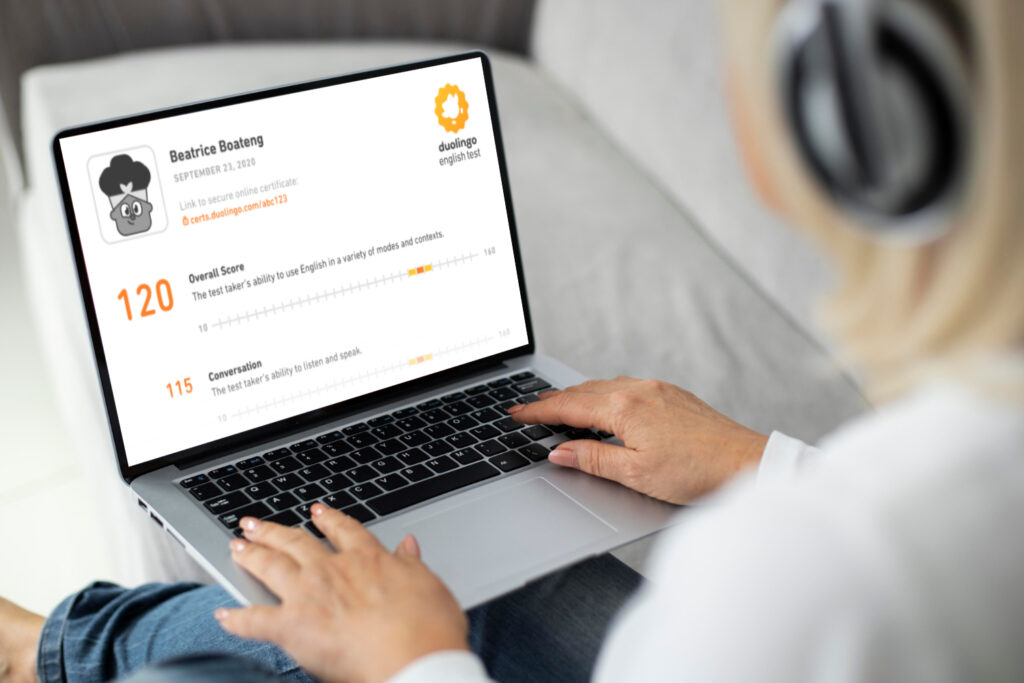 In today's world, where globalization and international connections are becoming increasingly important, proficiency in English has become particularly important. While traditional tests such as TOEFL and IELTS have long been the standard for assessing language skills, new alternatives are emerging, one of which is the Duolingo English Test. This relatively new test is becoming increasingly popular among students and professionals, offering them an easy and convenient way to demonstrate their English language skills.
What is Duolingo English Test
The Duolingo English Test (DET) is an online English proficiency test developed by Duolingo. The test is administered online and utilizes interactive exercises to measure comprehension, vocabulary, grammar, fluency, and pronunciation. The DET provides a standardized assessment system and is increasingly popular among educational institutions, employers, and individuals as an easy and convenient way to demonstrate their English language skills.
The exam has an adaptive computerized testing format. This means that the difficulty and sequence of questions vary. Unlike other tests, the DET questions are not grouped by type, so you will not know what type of assignment is coming next. During the test, the difficulty of the questions constantly changes, so you may find some assignments easier or harder than previous ones.
You can take the test online anytime and anywhere. There is no need to sign up and go to a test center—you can do it from home. To take the Duolingo English Test, you will need a computer with a functioning microphone and speakers, a webcam, an internet connection, and a form of identification.
The testing process takes less than an hour. Results are certified within two days, and you can submit your results to as many institutions as you like.
Upon completion of the exam, you will be provided with an official certificate containing your results, accessible through a unique and secure link. Scoring is conducted on a scale of 10 to 160. If you desire, you can make your certificate publicly available. DET results remain valid for a duration of two years.
In addition to your Duolingo English Test scores, you will receive scores in various categories that assess your competence in different areas.
Each category comprises two out of four skills:
Literacy: Reading and writing skills
Comprehension: Listening and reading skills
Conversation: Speaking and listening skills
Production: Writing and speaking skills
Test Structure and Question Types
Elements of the test:
Introduction and Instruction – 5 minutes: At the beginning of the test, you will receive an explanation of the rules and requirements for taking the test.
Adaptive Test – 45 minutes: This section evaluates your English language skills through a variety of tasks. The tasks will vary in complexity and format.
Written Paper and Video Interview – 10 minutes: In this section, you will be given a specific topic to answer in detail. You may be required to provide a written response and participate in a video interview.
Sample Question Types:
Read and type the missing letters to reconstruct the text.

Read and select from a list of words those that exist in an English dictionary.

Listen to a recording and type what you heard.

Read aloud and make a recording of your voice.

Describe an image: Aim to describe the image within 1 minute, either in written form or orally.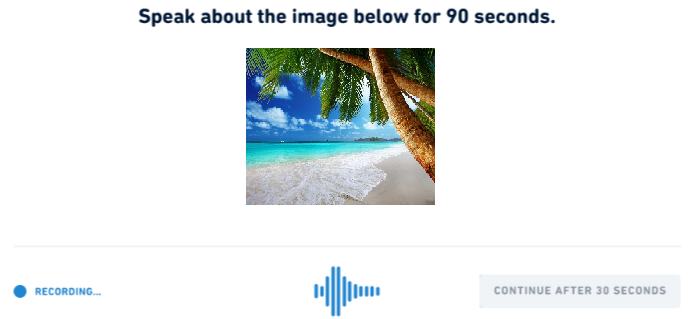 Read a question and then write a short text on a specified topic within 5 minutes.

Listen to and/or read the question and then speak the answer within 90 seconds.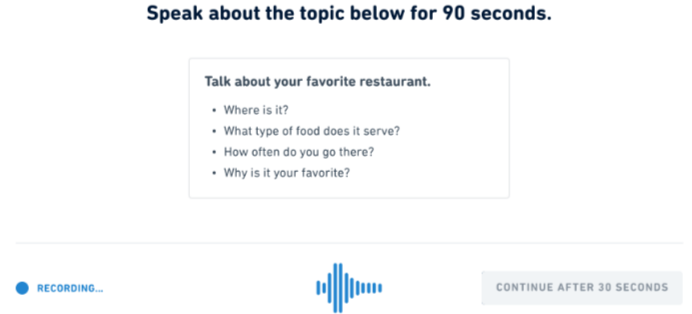 Complete the text: Choose the best option for each missing word and/or sentence.

Read the text and answer the question posed by highlighting the relevant part in the text.

Identify the main idea: Read the text and choose the option that most accurately reflects the primary meaning of the text.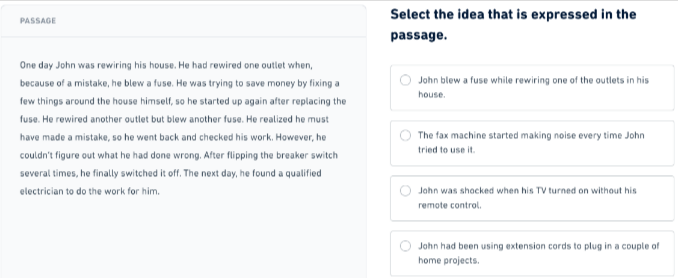 Respond in writing to the given topic within 5 minutes.

Respond to the given topic aloud for 3 minutes: This interview will be videotaped.
As of May 1, 2023, Duolingo English Test decided to remove the Listen and Select tasks. Instead, Interactive Listening question types were introduced.
Types of Interactive Listening questions:
Listen and read a description of a situation, then select the most appropriate option to start a conversation or respond appropriately.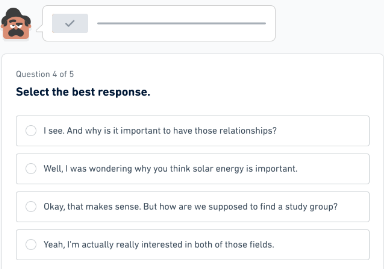 Summarize the conversation: In this task, you will need to write a summary of the previous conversation within 75 seconds.
To get more information about the different question types and helpful tips for each of them, you can visit the official Duolingo English Test website. However, please note that to access the information, you will need to register and create an account on the site. Additionally, you can find the official test taker's guide and take advantage of the free practice test, which has unlimited attempts.
Prepare for the Duolingo English Test with a professional course from eTalk! Improve your English skills, master test strategies, and achieve great results. Enroll now and achieve your goals with our preparation course!
DET Test Fees
The Duolingo English Test offers a flexible pricing system. You can purchase a single test for $59, and you will have 21 days to complete it from the date of purchase.
There is also a two-test package available, priced at $49 per test or $98 for both tests. After completing the first test, you will have an additional 21 days to take the second test in the package.
A total of three tests can be purchased within 30 days. This approach enables DET users to optimize their choices and save money if they plan to take multiple tests over a specific timeframe.
How DET differs from IELTS and TOEFL
IIELTS (International English Language Testing System), TOEFL (Test of English as a Foreign Language), and DET (Duolingo English Test) are three tests specifically designed to assess the language skills of individuals aspiring to immigrate, work, or study in an English-speaking country. These tests vary in terms of content, format, scoring, cost, and other important factors. By understanding these distinctions, candidates can select the test that aligns best with their individual needs and goals.
Cost of exams
Criterion

DET

IELTS

TOEFL

1 test - $59
2 tests - $49/piece

$200 - $310
The price varies depending on your location

$180 - $325
The price varies depending on your location

Changing the test date ($47), sending score reports, ordering additional copies of certificates

Late registration ($40), schedule change ($60), additional score report ($20), etc.

Does not involve reimbursement of fees *

If you cancel the IELTS test more than 5 weeks before the exam, the testing center will refund your money after a 25% deduction from your payment

If you cancel your registration 4 days prior to the test date, you are entitled to a 50% refund of the test fee
* In the eventthat you are unable to complete the exam due to a test outage or do not receive DET results within the agreed-upon period, Duolingo will offer you a refund or credit and make reasonable efforts to resolve the testing issue.
Criterion

DET

IELTS

TOEFL

2 hours (from July 26, 2023)

Computer-based online test

Paper-based IELTS Test

Computer-based IELTS Test

TOEFL PBT (Paper-Based Test)

TOEFL iBT (Internet-Based Test)

TOEFL Home Edition (Internet-Based Test)

Sections and types of questions

Adaptive section: selecting words from a list, completion, listening, writing, reading texts, answering questions, describing images, etc.

The second part of the exam: video interview and written task

Listening: table completion, summarizing, multiple-choice questions, sentence completion, matching two parts of an answer, marking points on a diagram.

Reading: table completion, summarizing texts, multiple-choice questions, short answer questions, matching two parts of an answer.

Speaking: conversation on a chosen topic,answering questions, dialogue on a given topic.

Writing: interpreting charts, tables, or other data, presenting the obtained information in written form,writing an essay on a given topic.

Listening: table completion, multiple-choice questions.

Reading: locating factual information and identifying connections between components in the text, vocabulary questions.

Speaking: conversation on a given topic + integrated tasks (reading a short text, listening to related material, and providing a response based on the information received).

Writing: integrated task (reading a short text, listening to related material, and providing a written response based on the information received) + "Writing for an Academic Discussion."
Assessment and Exam Results
| Criterion | DET | IELTS | TOEFL |
| --- | --- | --- | --- |
| | ready 48 hours after the test is taken | 3-5 days (computer-based)/ 13 days (paper-based) | 4-8 days after testing (11-13 working days for paper version) |
| | | | |
| | It has a computerized scoring system and its proprietary algorithm (AI) for evaluating the written and spoken sections | The examination sheets are scanned by a computer, and then they are evaluated by a licensed IELTS examiner | The reading and listening sections of the test are evaluated by the computer. The writing and speaking tests are assessed by both highly qualified TOEFL examiners and an automated scoring system that utilizes artificial intelligence for score calculation |
| | | | |
* You can compare DET results with TOEFL or IELTS scores using the table published on the official Duolingo English Test website
Availability and Exam Frequency
Criterion

DET

IELTS

TOEFL

The Academic version of IELTS is conducted 48 times a year, while the General Training version is conducted 24 times a year

TOEFL iBT offers more than 60 test dates throughout the year;

TOEFL PBT (Paper-Based Test) offers 4 test dates

TOEFL Home Edition is available 24 hours a day, four days a week.

There are no test centers

Available online 24/7

Recognition of the test worldwide

Accepted in more than 65 countries around the world

Accepted in 145 countries worldwide

Accepted in 190 countries worldwide
Criterion

DET

IELTS

TOEFL

minimum age of 13 years

(Individuals younger than the specified age must provide consent from parents or guardians)

18 years of age or older

(Individuals younger than the specified age must provide consent from parents or guardians)

recommended age 17 and older

(Individuals younger than the specified age must provide consent from parents or guardians)

What is needed for testing

A valid passport or any other form of identification, internet connection,a computer with a front-facing camera, microphone, and speakers.

A valid passport or any form of identification, an active credit or debit card

A valid passport or any form of identification with a name, photograph, and signature

Register on the official website and create your accoun

Register through the IELTS online registration platform

Register at official test centers, or online through the official website by creating an ETS account.You can also register by phoneor mail
Which exam is easier: DET, IELTS, or TOEFL?
The Duolingo English Test is commonly considered easier compared to the TOEFL and IELTS. One of the factors that makes the DET more accessible is its interactive and dynamic test structure. The DET offers a variety of question types and exercises and provides real-time feedback. The more familiar language used in the DET test materials makes it easier for some test takers.
TOEFL and IELTS are generally regarded as more difficult tests, especially in light of the use of specific vocabulary and terms. These exams have a higher level of formality and academic focus, which can pose challenges for some test takers. TOEFL and IELTS can also be difficult due to their structure and format, requiring test takers to have certain skills and preparation.
It is important to note that the perceived difficulty of each test is subjective and depends on individual characteristics. Some people may find one exam easier due to their strengths in specific areas, while others may consider it challenging because of their weaknesses.
Top universities accepting Duolingo English Test results
More than 4,000 universities worldwide accept DET certificates. You can send your results to institutions an unlimited number of times, and it's completely free of charge.
Harvard University
Yale University
Stanford University
Cambridge College
University of Pennsylvania
Princeton University
Cornell University
Illinois Institute of Technology
Massachusetts Institute of Technology, MIT
California Institute of Technology
Florida Atlantic University
Georgia State University
University of North Alabama

Columbia University

Carnegie Mellon University
University of Toronto
University of British Columbia
University of Ottawa
University of Calgary
University of Western Ontario
Cape Breton University
Concordia University
University of Alberta
Thompson Rivers University
University of Windsor
Yorkville University, Toronto, Vancouver
University of Regina
McGill University
University of Waterloo

University of New Brunswick
Imperial College London
Loughborough University
University of Bath
University of Warwick
University of York
Anglia Ruskin University
Bangor University
Brunel University
University of Glasgow
University of Birmingham
Queen's University Belfast
Middlesex University
University of Stirling
University of Hertfordshire
Leeds Beckett University
Technische Hochschule Brandenburg
SRH Berlin University of Applied Sciences
Steinbeis University
Arden University
Bard College Berlin
Berlin School of Business and Innovation
CODE University of Applied Sciences
Goethe University
Berlin University of Technology

University of Europe for Applied Sciences
Australian National University
Carnegie Mellon University
Griffith University
Kaplan Business School
Royal Melbourne Institute of Technology
Monash College
The University of New South Wales, UNSW
University of Western Australia
University of Adelaide
Newcastle University
Queensland University of Technology
Deakin university
Swinburne University of Technology
La Trobe University
Australian Institute of Music
Burgundy School of Business
Higher National School of Architecture of Grenoble
Grenoble School of Management
University Paris 1 Pantheon-Sorbonne
The American University of Paris
International Business School ISG
ENSAIA Program of the University of Lorraine
EPF Graduate School of Engineering
International Business School ICD
INSA Lyon
Paul Bocuse Institute
Schiller International University, Paris Campus
Webster University
Erasmus School of Economics, Erasmus University Rotterdam
European University Leadership
International School of Eindhoven
Maastricht International College
You can find a more detailed list of educational institutions accepting Duolingo certificates here.
Advantages of the Duolingo English Test
Replacement for TOEFL and IELTS: The Duolingo English Test can substitute popular exams for university and college admissions, providing students with an alternative testing option.
Program Selection: Duolingo English Test results help students find educational programs and services that match their English language proficiency level.
Improved Employability: Test results can be included in a LinkedIn profile or resume, allowing employers to assess applicants' English language skills.
International Recognition: The Duolingo English Test is accepted by over 4,000 universities worldwide, enabling students to apply

to a wide range of institutions in different countries and regions.
Convenience and Accessibility: DET is taken online from home and costs only $59, while other tests have higher fees, such as $220 and above.
Free Trial Test: Duolingo provides a free trial test that allows students to try out the testing format and assess their English level before registering for the full exam.
Conciseness and Adaptability: The test is time-efficient and adaptive, tailoring itself to each student's proficiency level for a more accurate assessment.
Scientific Research and Data Protection: The exam is based on scientific research and employs state-of-the-art data protection measures, ensuring reliable results and the safety of students' personal information.
Comprehensive Language Proficiency Assessment: The Duolingo English Test offers a more comprehensive evaluation of language proficiency, including score breakdowns by categories, helping students identify their strengths and weaknesses.
Quick Results and Extensive Study Material: Duolingo provides rapid results and offers extensive study material to prepare for the test, aiding students in effective preparation and improving their English language skills.
Take advantage of the unique offer from eTalk online school: get a 25% discount on the first 10 preparation lessons for the Duolingo English Test! Acquire knowledge at a favorable price and increase your chances of successfully passing the test!