7 EUR / 25 min
12.4 EUR / 50 min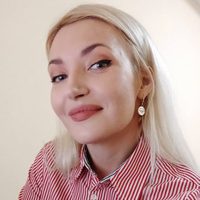 Teaches:
English

Near Native
Speaks:
German, Russian, Ukrainian
Specialization:
General English, IELTS, English for IT, Corporate English, Conversational English
Student`s age:
Teenagers, Adults
I am a person with a strong teacher personality and passion for continuous professional development. Since my profession is an integral part of me, my interests are mainly related to educational psychology. I can spend hours reading about techniques to help my students retain knowledge or how children grow intellectually and acquire new skills. Apart from this, I spend my time doing yoga or walking in nature. As a big fan of Astrology and Astronomy I am always looking for the best stargazing locations and observatory spots to admire the Universe.
Diploma in Translation and Teaching English and German
Betty is a very good teacher. She is very kind and patient. She is helping me a lot to improving my English skills