8.80 EUR / 25 min
16.10 EUR/ 50 min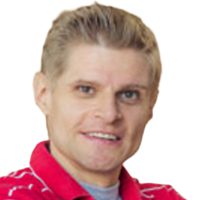 Volodymyr
M.
Ukraine / USA
Teaches:
English

Native speaker
Specialization:
Corporate English, IELTS, Legal English, Medicine English, Conversational English, General English, English for Bible and Theology, Accent Training
Student`s age:
Teenagers, Adults
Hello My dearest students! My Name is Vladimir! I like teaching and helping students perfect their language skills and the first student that I ever had was me, I teach students as I have taught myself, as I have done so over the years. Much like traversing treacherous waters and making it back reborn, enlightened, renewed, and refined in the language field and thus gaining more language skills, so can I achieve the same with others that l would be so honored to have classes with. I taught myself first before I would get to help others. Though I was not born into English, learning my way into English, gave me a more profound understanding of what students learning the language go through.

P.S.
I also like poetry and writing poems, if any one of you is interested in some poetry classes, like writing poetry, I can also do that too.

I also like teaching pronunciation, back in China I was a rap singer and impresario/English teacher, but the rap thing was just for fun really, but should you be interested in improving your pronunciation, I can even help you learn Eminem rap songs if you like 'cause I learned a lot of that myself, that's what improved my pronunciation too, so if you are interested in that I can also help you.
For instance, if you like to have a southern accent or any other kind of accent, just let me know, even the rap accent, or if you like to sound like any actor you like, I can help you with that as well. (it's just that I don't like YouTube I hate putting myself out there, I just would like to help people who sincerely need it).

Here goes just some of it.

(do not procrastinate, /don't waste your time just sitting there and wait, /you must just hate to be too late, /no time to waste, just let me know you need my help post haste<><.

here is another one

Do not miss or be remiss if you lose this offer now, /no need in fear or defeat to kowtow, /neglect to hesitate/just let me know you need my help in one second and not two, because not to decide, is to decide not to.

Speaking of my hobbies, I adore exercise and physical training. I am a very health-minded individual. I am a family person and I love spending time with my wife and my little boy Asher my son. I love music of all kinds. I love watching movies. I also love poetry and writing rhymes as you may have noticed in my introduction earlier, and I teach students to do that as well, I can also do rap freestyle and I can do all kinds of accents in English and impressions of politicians, I even met some in person.))))

See ya soon in my class my dear brothers and sisters.
Bachelor of Philology, Russian University of Druzhby Narodov, June 22, 2012;
Bachelor of Arts in Linguistics, Williams Town University, USA, May 25, 2006
English Teacher for 19 years
Betty is a very good teacher. She is very kind and patient. She is helping me a lot to improving my English skills