15,8 USD / 25 min
26,4 USD / 50 min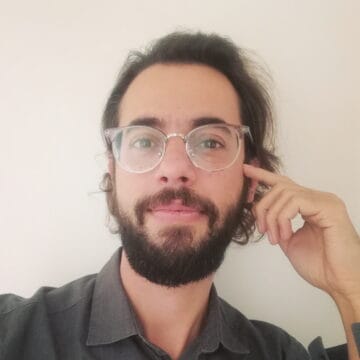 Teaches:
English

Near Native
Speaks:
English, Portuguese, Spanish
Specialization:
General English, Conversational English, IELTS, Corporate English
I have been teaching for 20 years and have lived in the UK, France, Philippines, Brazil and Colombia. I have also worked in over 15 countries (eg. Spain, Czech Republic, Croatia, Peru, Bolivia, among others). I'm very experienced in helping students achieve their goals, be them a high score at IELTS, effective business communication, accent reduction, or simply a good enough English for traveling. I have taught all ages (from 7 to 70) and all levels, from A1 to C1, including proficiency exams (TOEFL, IELTS, Cambridge).
Outside of teaching I spend most of my time listening to music and cooking; as well as going for long walks with my dog.
OCT 2010 - APR 2014 M.A. IN EDUCATION, UNIVERSITY OF BATH, UK.
Specialisation: Learning and Teaching.
JUL-DIC 2021 REMOTE MASTER TEACHER, BRITISH COUNCIL, COLOMBIA;
JUN-DIC 2021 TEACHER TRAINER, BRITISH COUNCIL, COLOMBIA;
APR-DEC 2020 TEACHER TRAINER, BRITISH COUNCIL, COLOMBIA;
UL 2019- MAY 2019 REGIONAL ADVISOR IN CPD, BRITISH COUNCIL, AMERICAS;
APR-DEC 2019 ELT MENTOR, BRITISH COUNCIL, COLOMBIA;
OCT 2015-DEC 2017 QUALITY MANAGER, BRITISH COUNCIL, URUGUAY/ PHILIPPINES;
2013-2015 FREELANCE TEACHER TRAINER, VARIOUS PLACES;
2013-2014 COURSE DESIGNER AND TEACHER TRAINER, INSTILL EDUCATION, UK;
2011-2012 ENGLISH TEACHER, ST GEORGE INTERNATIONAL, LONDON, UK;
ENGLISH TEACHER, VARIOUS PLACES, SAO PAULO, BRAZIL.
Betty is a very good teacher. She is very kind and patient. She is helping me a lot to improving my English skills