15,8 USD / 25 min
26,4 USD / 50 min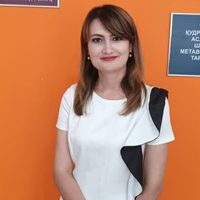 Teaches:
English

Near Native
Specialization:
Corporate English, Conversational English, General English
Student`s age:
Teenagers, Adults
Hi, my name is Zarrina! I am a certified TEFL and TESOL English teacher with 15 years of teaching experience. I have been teaching different disciplines across General English, Business English, Spoken English, English for interviews including Civic Education, Critical thinking and University preparatory courses. During my classes, I try to use integrated skills through communicative approach, Social Emotional Learning and Active Learning Methodologies. I love teaching and make my efforts to provide an enabling environment for my students to learn and enhance their English proficiency during my class sessions.
Looking forward to e-meeting you in my class sessions. See you!
KHUJAND STATE UNIVERSITY Khujand, Tajikistan, Graduate Education-Faculty of Foreign Languages, September/2004-July/2009, Major: English language
NGO TAJRUPT Khujand, Tajikistan 07/17 – Present, Curriculum Lead, Project Manager, Instructor;
UNICEF in Tajikistan with partnership of NGO TajRupt, Khujand Tajikistan 07/2019-09/2020, Project officer;
YOUTH EDUCATION DEVELOPMENT CENTER Khujand, Tajikistan 09/15 – 05/18, Instructor of Discussion Philosophy & Psychology courses;
PRIVATE SCHOOL "RUSTAMOV Y.D." Khujand, Tajikistan 09/16 – 05/17, Instructor of English Language;
SECONDARY SCHOOL #6 Khujand, Tajikistan 09/07 – 05/09, Instructor of English Language
Betty is a very good teacher. She is very kind and patient. She is helping me a lot to improving my English skills