Affiliate program for students
Dear students of eTalk Online School!
We are pleased to inform you that you now have a great opportunity to earn bonuses by inviting friends, acquaintances, and colleagues to study at eTalk School. These bonuses can be used within the platform for new lessons.
You can earn EUR 10 for every class package you order based on your recommendation.
How to start earning bonuses?
1. Log in to your My Order page using the following link: https://etalkschool.com/my-account/. If you have already made orders for packages of classes before, then you already have an active account. Login to the cabinet using your e-mail address. If you haven't created an account yet, click on the "Registration" field on the right side of the page and enter your email to create a new account.
2. In your personal cabinet, go to the Affiliate section, where you will be able to monitor the list of referral orders, the amount of bonuses earned, the status of accruals in the future.
3. In the Affiliate section, open the Profile tab, where you can save your referral link. An example of a unique referral link: https://etalkschool.com/?ref=3, where ref=3 (the value is given as an example) is your unique value.
Example screen of the Affiliate section in your personal account: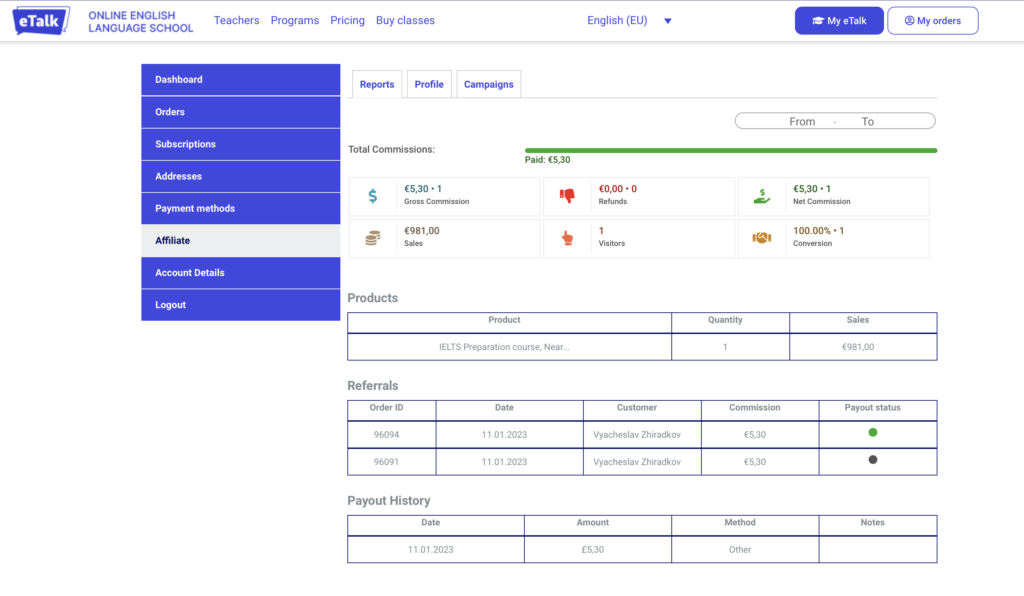 Do you want to bring students to eTalk on a regular basis and earn money (from 10% of each order) by becoming an official Affiliate Partner to withdraw money to your personal bank account as an official income? Read more about the offer here https://docs.google.com/document/d/1YEBz5gRI6EMHA6NoqIxT5VYyNOiJAE6xcml-Al59qnA/edit?usp=sharing
Do you want to get personal advice on the Referral Program for students or become an official Affiliate Partner? Please schedule a consultation through the following link: https://calendly.com/etalk/emeeting or contact us via email at [email protected]
Regards,
eTalk School
Customer and Partner Relationship Department