How to work with eTalk on Edvisor
Thank you for being so interested in working with eTalk On-demand Online Tutoring.
If you use Edvisor, we have to partner there in the first place.
1. To find eTalk, follow these steps:
Go to the Explore New Schools tool in the top-right navigation menu.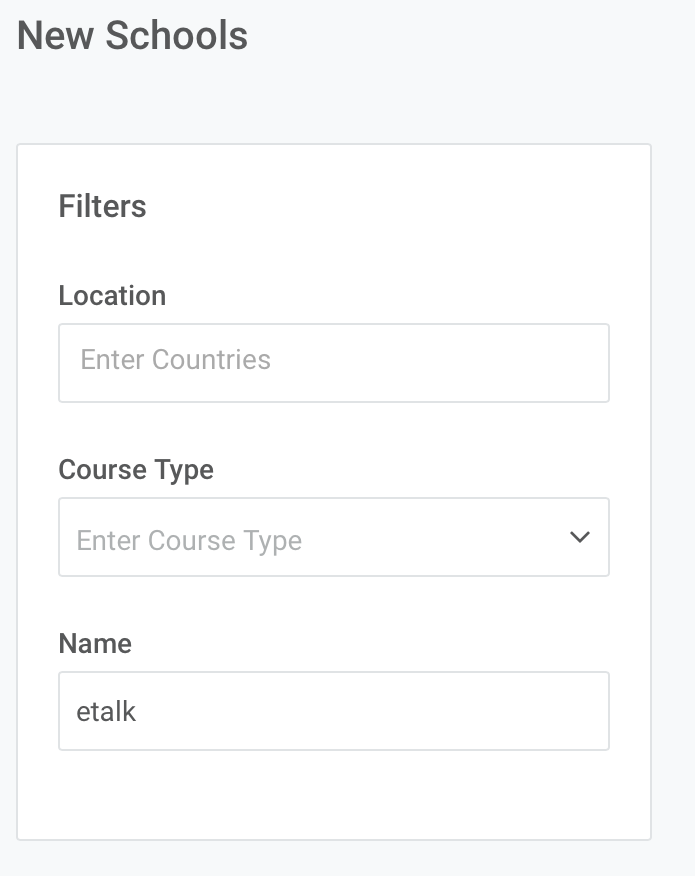 2. If we are already partnered via Edvisor, go to the "Manage Schools" section.

Find eTalk among the active partner schools.

3. Once you have found eTalk, follow these steps to select a course:
Check eTalk's profile and choose any available campus. Currently, all campuses offer the same products and prices.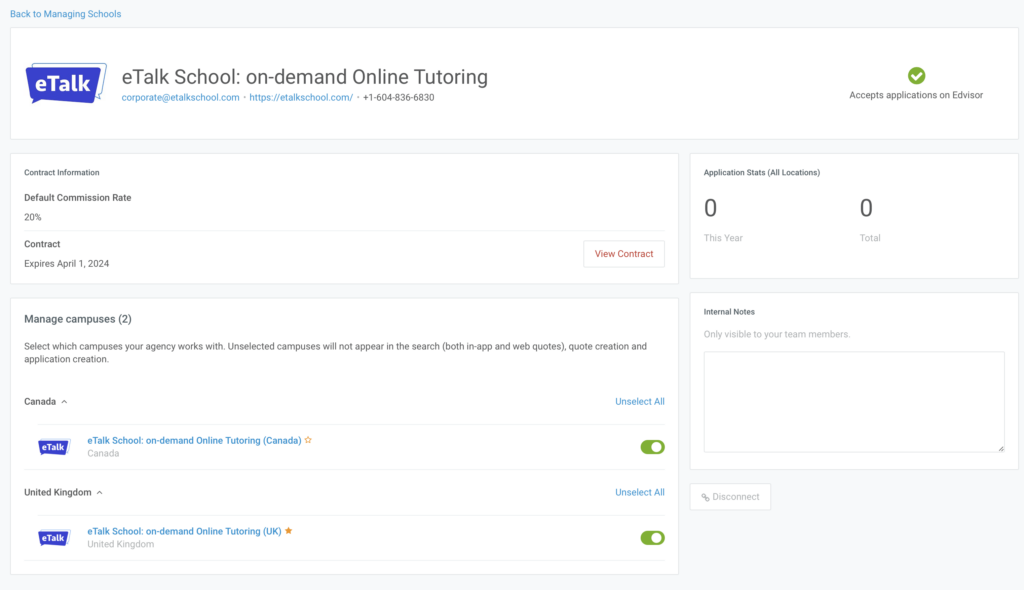 4. Go to the Courses tab to view the available types of courses. 
Courses are priced by weeks and include: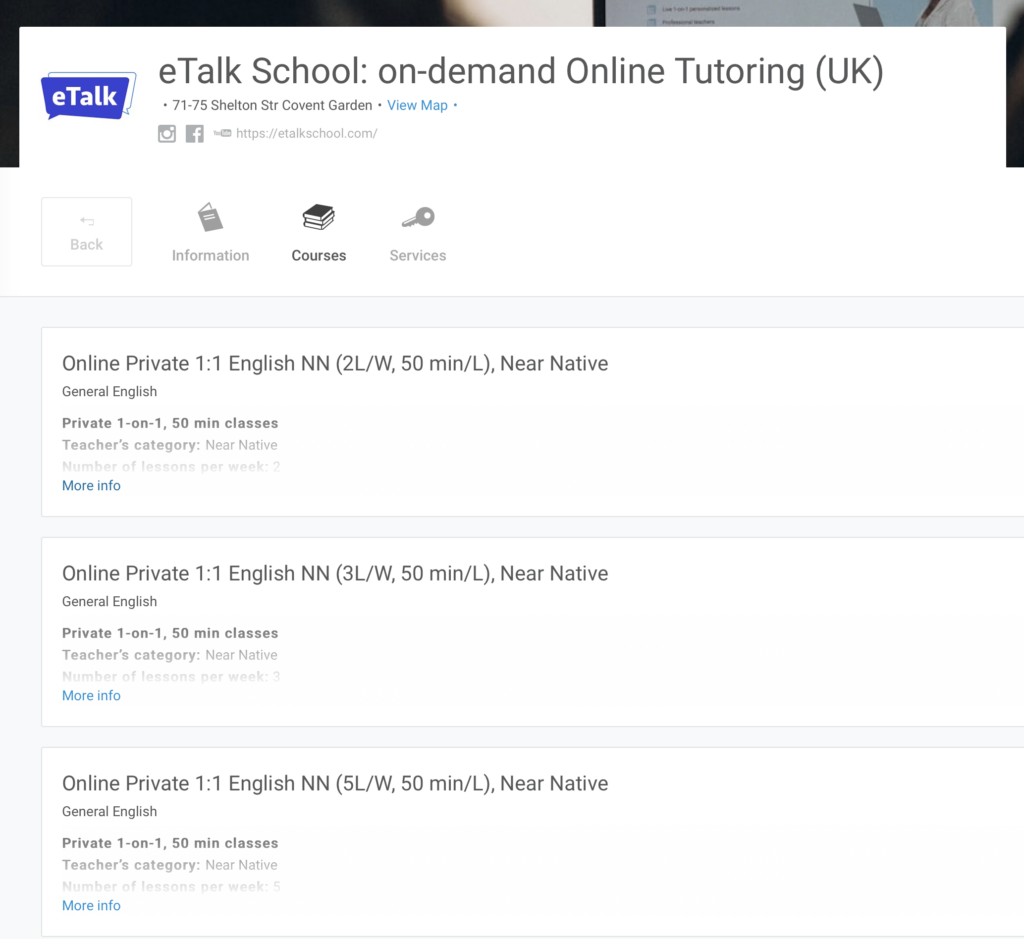 General English

Academic English

Language Exam prep

CELPIP prep

ESL  prep course for University & College Pathways

Other foreign languages (French, Spanish & others)
5. To explore different class packages and pricing, follow these steps:
– Visit the Services section.
– Choose one of packages ranging from 10 to 60 classes.
If you are interested in packages with flexible scheduling – that's what you need to book.
These packages can be purchased first, and scheduling can be arranged later. All classes will be available on the agency or student's balance for 12 months.
Additionally, you can find "Trial classes" among the available add-ons.
Also, you can find "Trial classes" among add-ons.
6. To add eTalk's products or add-ons to your Quotes, follow these steps: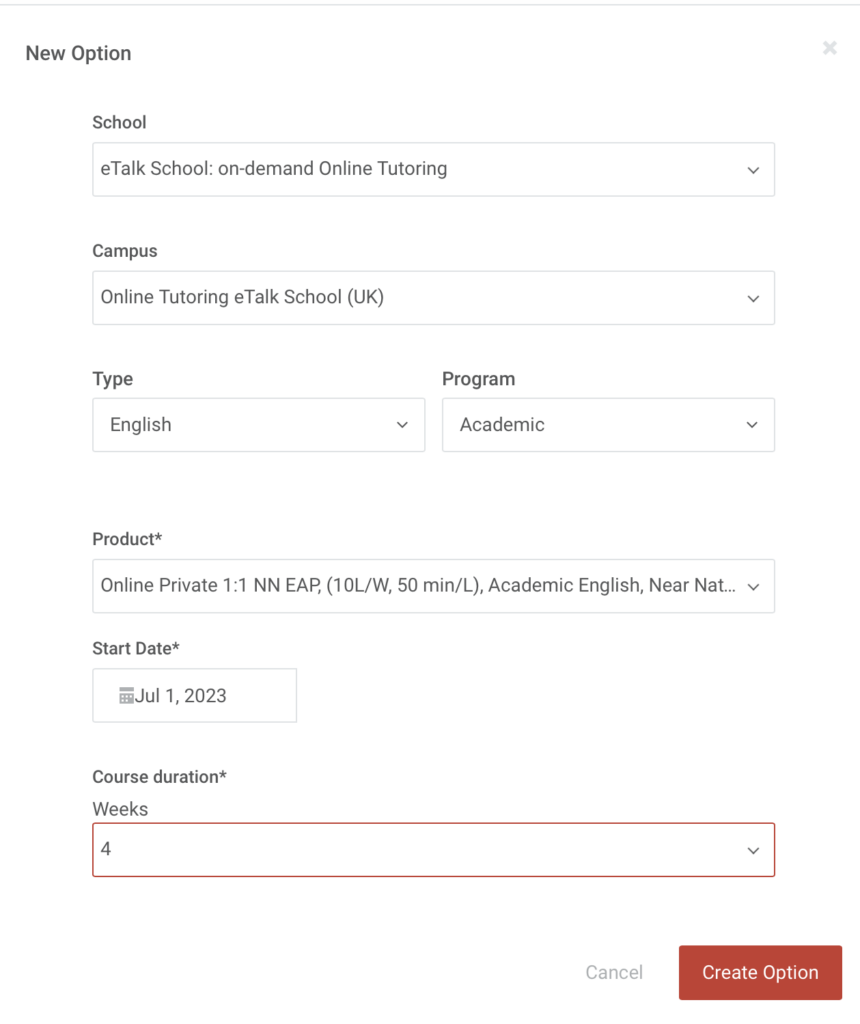 – Create a new quote. 
– Click the button "+Add Option"
– Type "eTalk" in the search field to find eTalk's school
– Select any available eTalk campus (they are all the same)
– Choose the desired language (English, Spanish, French) and program type (General, Academic, Exam prep, Pathway, Juniors).
7. Once you have completed the above steps, your Quote will be ready.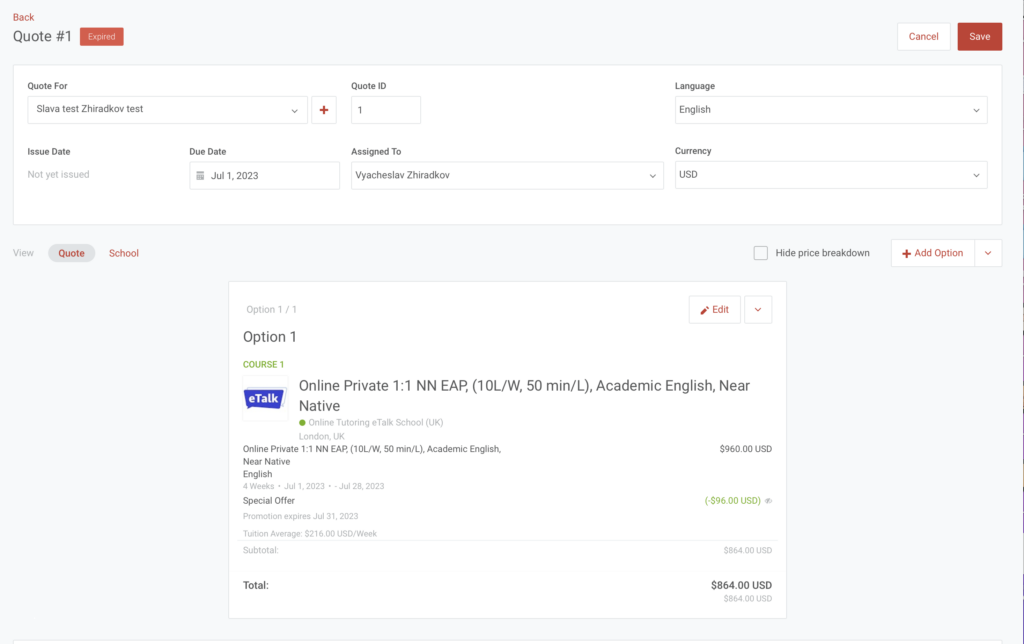 8. To submit new applicants through Edvisor, follow these steps:
Access the "+New Application" tool.

Create or add a new student.

Select eTalk from the list of schools.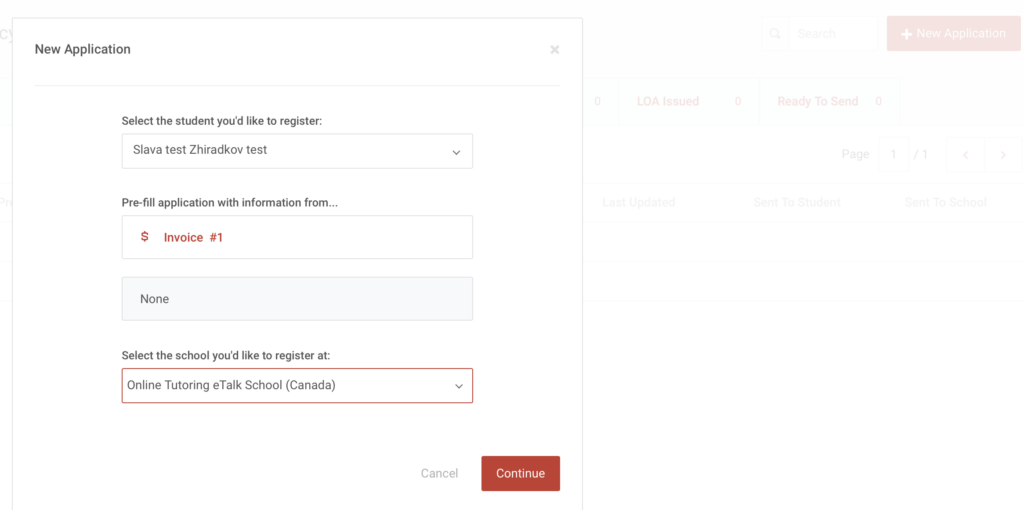 9. After submitting a new application to eTalk, it will be processed accordingly.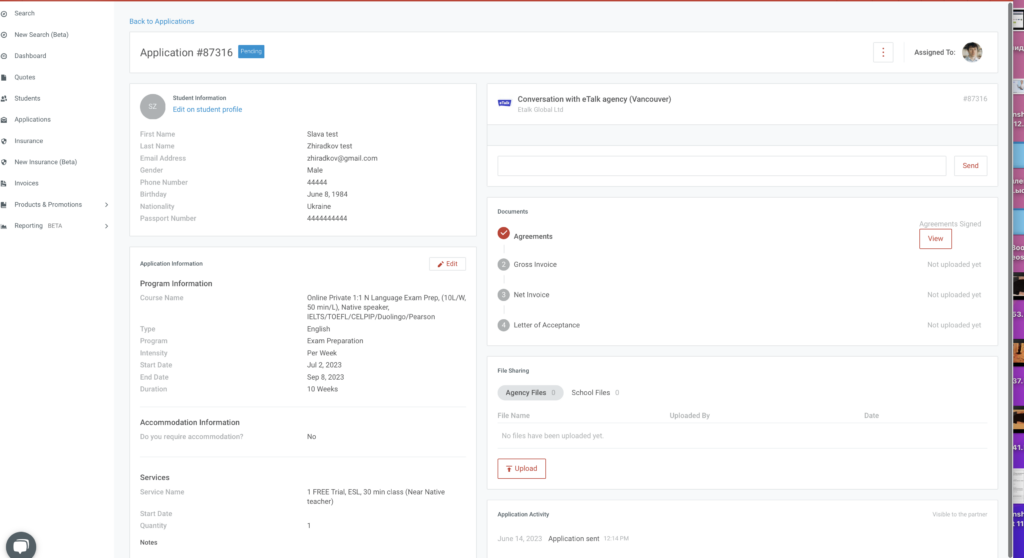 Questions or concerns?
If you have any questions or concerns, please feel free to get in touch with your eTalk's dedicated manager or contact us using the information below:
Vyacheslav Zhiradkov
CEO & Co-founder
eTalk: on-demand Live Tutoring
Vancouver, BC, Canada
Work: +1-778-8194390
WhatsApp/Mob +1-604-836-6830
Schedule a video call via the following link: https://calendly.com/etalk/emeeting
Terms & Conditions:
1. Class cancellation 
All cancellations require at least 2 hours' notice. If you cancel with less than 2 hours' notice, you will lose your paid-for class. If a teacher cancels with less than 2 hours' notice, you will receive a free class. Students need to log in to the scheduling system to cancel their class or contact eTalk's support team via email or messaging.
2. Class length
We offer 50-minute 1-on-1 (live) online classes for Academic English, language exam preparation, and General English, as well as other tutoring subjects. Upon request, we can provide 25-minute classes for children aged 5-12.
3. Technical issues
We provide English classes online 24 hours a day, 365 days a year, with minimal technical problems experienced through the my.etalkschool.com platform. In the event of any issues, we have the option to switch to Zoom. However, please note that eTalk cannot be held responsible for electricity or technical problems on your end that may cause you to miss a class or part of a class. It's important to be aware that classes may be recorded for quality control purposes, but these recordings are always deleted within a month.
4. Scheduling conditions
It is the students' responsibility to check their scheduled classes in the online scheduling system. eTalk is not accountable for any incorrect booking times or dates that may have been added on the platform. We strive to offer consistent scheduling, allowing you to study with the same teacher at the same time every week. In the event that your teacher is unavailable, you can request another equally qualified teacher through our Support team.
5. Privacy Policy
At eTalk, we highly value your privacy and provide you with complete control over your personal information. We do not share your information with third parties for any reason.
Refund Policy
Please note that only pre-paid classes are added to the scheduling system on my.etalkschool.com.
Usage period
All paid class packages must be utilized within 12 months from the date of purchase. Any classes remaining unused after 12 months will expire.
If you have purchased classes and wish to request a refund, a 100% refund of unused classes can be made within 14 days from the date of purchase.