12.6 USD / 25 min
22.3 USD / 50 min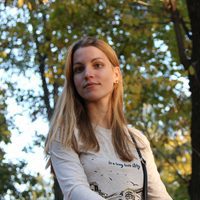 Anastasiia
B.
Ukraine / Italy
Teaches:
English, Russian, Ukrainian, Italian

Near Native
Speaks:
Russian, Ukrainian, Italian
Specialization:
ZNO, IELTS, Cambridge exams, General English, Conversational English
Student`s age:
Kids, Teenagers, Adults
Learn real life Іtalian аnd Englіsh. Tаlk likе а natіve speaker with mу lеssons bаsed оn rеal соnvеrsatіоns. Education: I have a BA in English and Italian Studies, and MA in translation from Italian and English. Career: I have gained extensive teaching experience working with children and adults.I have also been an online Italian and English tutor for over 9 years.
I always try to include a lot of multimedia content in all of my lessons. I plan lessons according to your goals, needs and interests, but the focus is always on communication. My mission is to enable you to develop fluency in a fun, brain-friendly, natural way. In my lessons I use movies, songs, literature, art, magazines and newspaper to make your journey with me the most enjoyable learning experience you can have.
Not only you will learn a language but also its culture, idioms, traditions, history and curiosities. Grammar is important too, so will learn the fundamentals of grammar that will give you the tools to reach fluency. Are you ready to start?



BACHELOR OF ITALIAN AND ENGLISH TRANSLATION, KYIV NATIONAL UNIVERSITY 2012-2016;
MASTER OF ITALIAN AND ENGLISH TRANSLATION, KYIV NATIONAL UNIVERSITY 2016-2018
LANGUAGE TEACHER 2012-PRESENT
Betty is a very good teacher. She is very kind and patient. She is helping me a lot to improving my English skills