7 EUR / 25 min
12.4 EUR / 50 min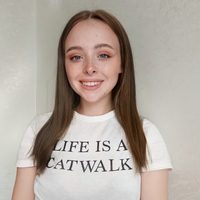 Anastasiia
P.
England / Ukraine
Teaches:
English

Near Native
Speaks:
German, Russian, Ukrainian
Specialization:
General English, Corporate English, Conversational English
Student`s age:
Teenagers, Adults
Dear students,
Welcome to the eTalk school. My name is Anastasiia; I am 23 years old.
Despite my young age, I have got four years of practical experience.
I conducted English classes for kids, teenagers, and adults. I taught general English, business English, and exams English.
My favourite aspects of the English language are grammar and pronunciation. I teach my students how to speak fluently and without mistakes by teaching them using grammar rules and pronouncing new words correctly. If you want to speak fluently and without mistakes – you are welcome to become my student.
What about my qualifications? I have a young specialist degree in teaching English as a second language for kids. Currently, I am reading English and German languages at Ostroh Academy. In July 2021, I obtained a certificate in advanced English.

I wish you good luck with studying English. See you at lessons!
ESL teacher for kids and adults (Young specialist diploma | Bachelor's Diploma )
English Teacher since 2017
Betty is a very good teacher. She is very kind and patient. She is helping me a lot to improving my English skills