15,8 USD / 25 min
26,4 USD / 50 min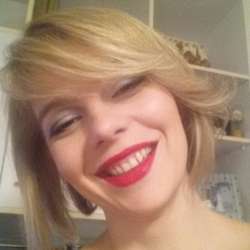 Teaches:
English

Near Native
Speaks:
Spanish, Serbian, Macedonian, Portuguese
Specialization:
General English, TOEFL, Legal English, IELTS, English for Accounting and Finance, Corporate English, Business English, Cambridge exams, Conversational English
Student`s age:
Teenagers, Adults
I´ve been teaching English for the last 15 years, both presencial and online. While teaching I use several methodologies, for example the natural method and TPR. My students are mostly adults, learning Business English, but I also teach teens and kids. Classes are always versatile, not always following a book, but also including topics of interest of each student, which makes the classes both didactic and fun.
M.A. in Conference Interpreting (consecutive and simultaneous) October, 2008 – October, 2011;
B.A. in English Language and LiteratureTeacherof English Language and Literature, October, 1999 –September, 2003
English Teacher since 2003 year
Betty is a very good teacher. She is very kind and patient. She is helping me a lot to improving my English skills