15,8 USD / 25 min
26,4 USD / 50 min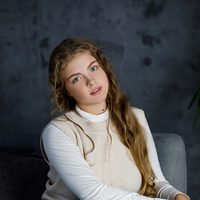 Sof'ya
Z.
Ukraine / Germany
Teaches:
English

Near Native
Speaks:
Russian, Ukrainian
Specialization:
General English, English for Tourism, Conversational English
Student`s age:
Kids, Teenagers, Adults
Hey there! My name is Sophie. I'm from Mariupol, Ukraine. I've been working as an online teacher for an academic year. I'm a student of the National University of Kyiv-Mohyla Academy. I'm majoring in languages and especially in the varieties of English language. I enjoy traveling and meeting new people. I've been to the USA 3 times for quite a long period of time, that's why I have an American accent. Now I'm in Germany as an exchange student because my home university offered me a place in a German university. The English language really helps me to study and to make new international friends. For sure, I'm deeply convinced that the English language opens every door in your life's corridor as it is a world-wide language which everyone speaks on. So, I promise you that our classes will be interactive, full of enjoyment and new knowledge. I will listen to your expectations and I will offer you the best way in improving your English speaking, reading, listening and writing skills. I'm looking forward to meeting you!! See you soon!!
on the 3d year of studying at National University of Kyiv-Mohyla Academy
English Tutor since 2021 year
Betty is a very good teacher. She is very kind and patient. She is helping me a lot to improving my English skills