17.9 CAD / 25 min
31.6 CAD / 50 min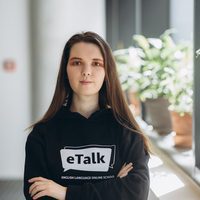 Aleksandra
Zh.
Ukraine / Poland
Teaches:
English

Near Native
Speaks:
Russian, Ukrainian
Specialization:
General English, TPR
Student`s age:
Under school, Kids
Hi! My name is Sasha and I'm the teacher that kids love to study with. My classes are fun and easy-going. I try to make kids fall in love with English as I do!
I have 2 years of experience in teaching English under school kids and primary school ones. But it's not about lengths of teaching, it's more about the quantity and quality of classes I taught.
Also, I am an eTalk study program creator for kids. So most likely your kid will be taught by the program I created.
Hope to see your kids in my class! Bye for now!
Graduate Student of Department of Linguistics
English Teacher for 2 years
Betty is a very good teacher. She is very kind and patient. She is helping me a lot to improving my English skills