25,5 USD / 25 min
42,5 USD / 50 min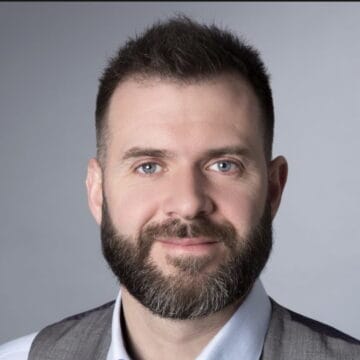 Specialization:
General English, Conversational English, IELTS, Business English, English in Accouning, English in Finance, English for HR
Student`s age:
Kids, Teenagers, Adults
Hi. I've been an English teacher for 20 years. I am married and have two kids, which means I'm busy, but doesn't mean I have no time for my hobbies and interests. These are football, working out, reading and visiting cultural events, such as concerts and exhibitions.
MA TESOL and Applied Linguistics University of Portsmouth October 2008 -
December 2010;
Cambridge CELTA (Pass B) IH Budapest November 2005 -
December 2005;
Postgraduate Certificate in GIS University of Leeds March 2007 -
October 2009;
BSc Geography Manchester Metropolitan September 1999 -
University June 2002
November 2010 – September 2011, IELTS Examiner,
British Council;
April 2015 – Present, Academic English Teacher,
Friedrich-Alexander Universität Erlangen-Nürnberg (FAU);
February 2014 – Present, English Instructor,
Hardman GmbH (Siemens sub-contractor), Nuremberg, Germany;
August 2013 – January 2014, Technical English Trainer,
British Petroleum Foundation Programme, Baku, Azerbaijan;
January 2013 – June 2013, Academic English Teacher,
Sultan Qaboos University, Muscat, Oman;
September 2011 – January 2013, Head of Foundation,
Al Bayan College (affiliated with Purdue Calumet, USA), Muscat, Oman;
July 2010 – September 2010, Pre-Sessional Support Tutor,
University of Liverpool, Liverpool, UK;
June 2009 – August 2009, English Trainer,
Teens Summer School, English in Chester, Chester, UK;
February 2009 – June 2009, English Trainer,
Freelance Trainer, Budapest, Hungary;
September 2008 – January 2009, English Trainer,
Freelance Trainer, Hamburg, Germany;
July 2006 – August 2008, Literacy Instructor,
Total Literacy Pte, Singapore;
Jan 2006 – July 2006, English Trainer,
Freelance Trainer, Budapest, Hungary;
March 2004- March 2005, Language Instructor,
Nova, Nisi-Umeda, Osaka, Japan
Betty is a very good teacher. She is very kind and patient. She is helping me a lot to improving my English skills