12.6 USD / 25 min
22.3 USD / 50 min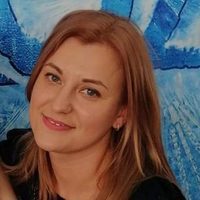 Teaches:
English, Ukrainian

Near Native
Speaks:
Russian, Ukrainian
Specialization:
General English, Conversational English, TPR
Student`s age:
Kids, Teenagers, Adults
Hello everyone! I'm Alina and more than ten years I've been working as a tutor and English teacher with the students of different ages.
In my class, I work with enthusiasm and positivity. In my job I use varying learning styles to make my lessons interesting and productive. For me each student is unique, so I always choose different approaches of teaching to each, and I'd like to build meaningful, long-lasting relationships with all of them.
I'm excited to meet you soon.

Master of philology: teacher of English and Ukrainian (Mykolaiv National University (Ukraine)
9 years of work experience and 1,5 of them in eTalk team
Betty is a very good teacher. She is very kind and patient. She is helping me a lot to improving my English skills