English course for a job interview
Get rid of worries and doubts. Be prepared for any question and type of interview
Individual training format
Highly qualified IELTS teachers
Only current topics and preparation for the most common questions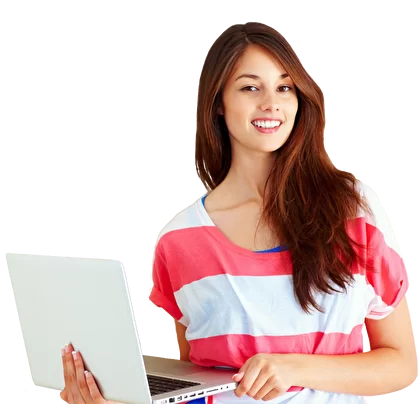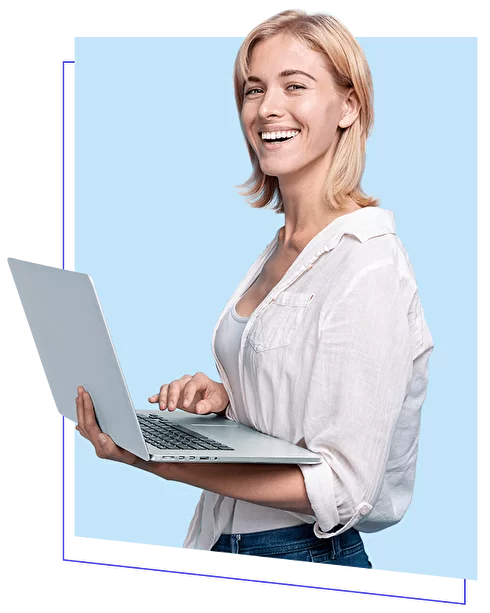 My eTalk virtual classroom
All сlasses are held on My eTalk platform with video, audio, virtual classroom with digital interactive learning materials.
1-on-1 with a teacher
Individual lessons 1 on 1 with a teacher at a convenient time for you. Scheduling, messaging tool, records of past classes, and homework are all available on the platform.
50 minutes for adults,
25 minutes for children
Duration of one lesson. During this time, the maximum concentration of attention is maintained.
The purpose of the interview in English is not only to analyze the professional qualities, knowledge, experience and education of the applicant, but also to check the level of English language skills, professional terminology, readiness for relocation and business trips to English-speaking countries, understanding of whether the candidate can work and communicate effectively in the English-speaking work environment. Such an interview includes common English words, phrases, specific business vocabulary and professional terminology. Therefore, both the recruiter and the applicant must have a sufficient vocabulary, knowledge of grammar and idiomatics, as well as a good ear for English speech and be able to answer questions competently.
The stages of an English interview often have a common structure, but may differ depending on the form of the interview, the type of questions and the specific company/organization.
The most popular types of interviews:
Individual interview;

Video or phone interview;

Small group interview;

A second or face-to-face interview;

Behavioral interview;

Task-oriented or test interview;

Stress Interview.
The most common questions at a job interview:
Personal questions about you and your professional experience. (Tell me something about yourself. What are your strengths/weaknesses? Where do you see yourself in five years?)
Situation questions (Why did you decide to leave your previous job? How do you handle pressure or a stressful situation? How would your boss describe you?)

Behavioral questions (Give an example of how you have dealt with difficulties in the workplace in the past. Give an example of when you have shown leadership qualities.)
Who will benefit from this course?
Applicants who plan to work in an English-speaking work environment or a foreign company abroad;

IT Professionals;

HR managers, interviewers, hiring managers;

Administrators, directors, department heads, business owners;

Students in preparation for entering foreign universities.
What do you get out of the course?
Understand the strategy, structure and secrets of the interview;

Learn to write winning resumes, cover letters, and business correspondence;

Familiarize yourself with the types of interviews;

Play every possible question and answer;

Add to your vocabulary with topical terms and phrases;

Improve your spoken English;

You'll be able to support any work-related topic;

You will learn the rules of conduct and basic interview etiquette;

Get exactly the skills that will highlight your strengths and prove that you are exactly what you need.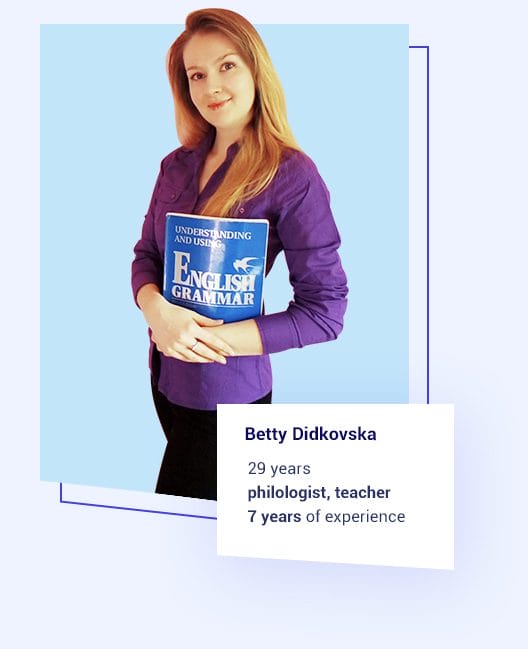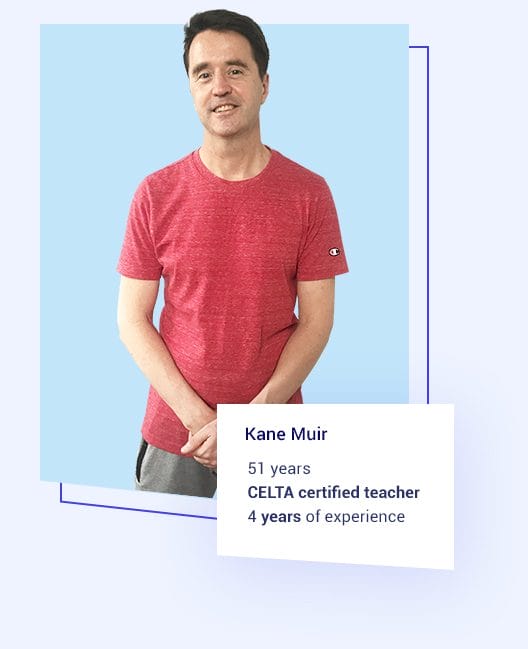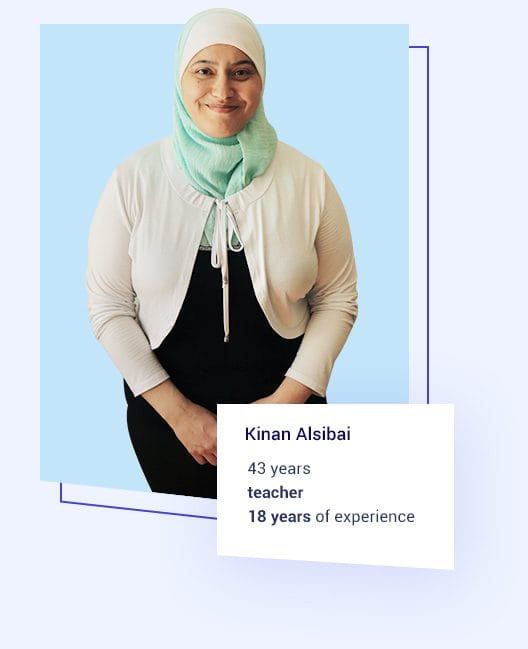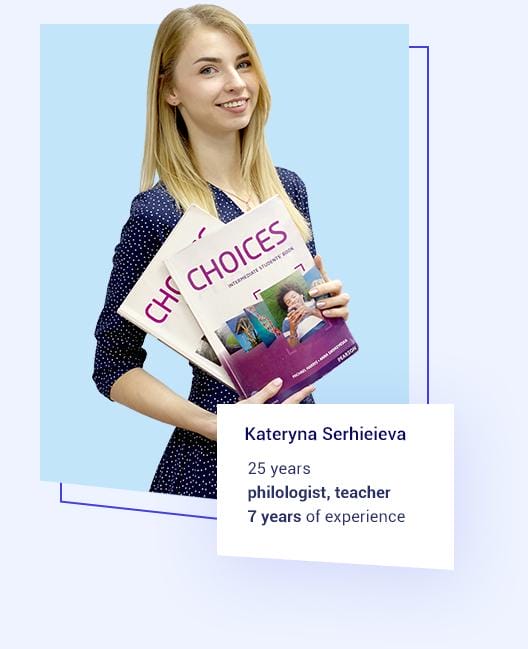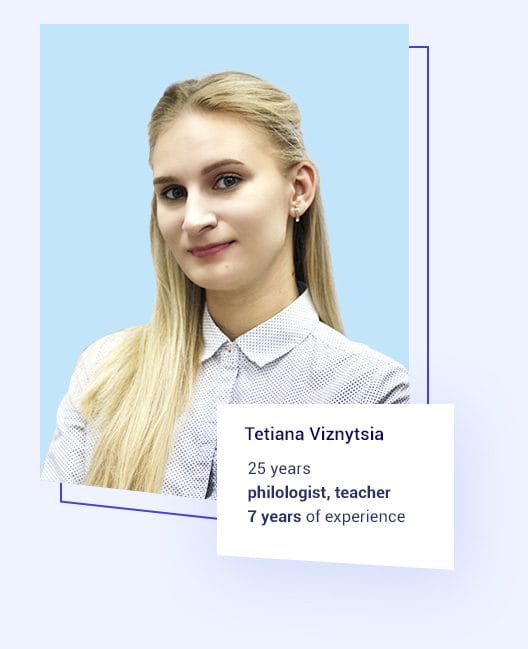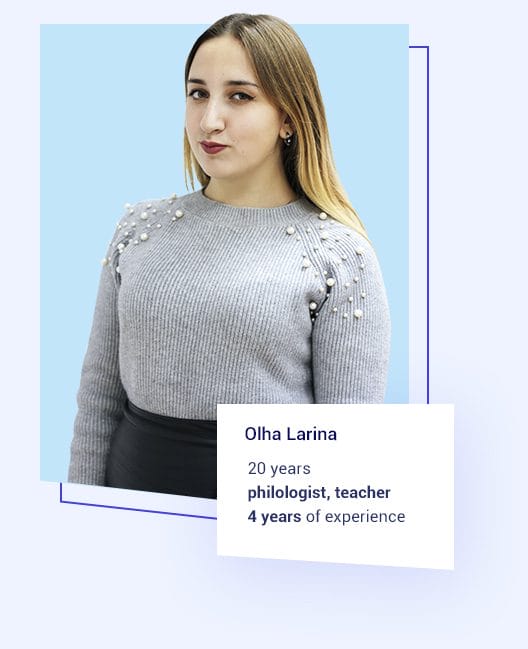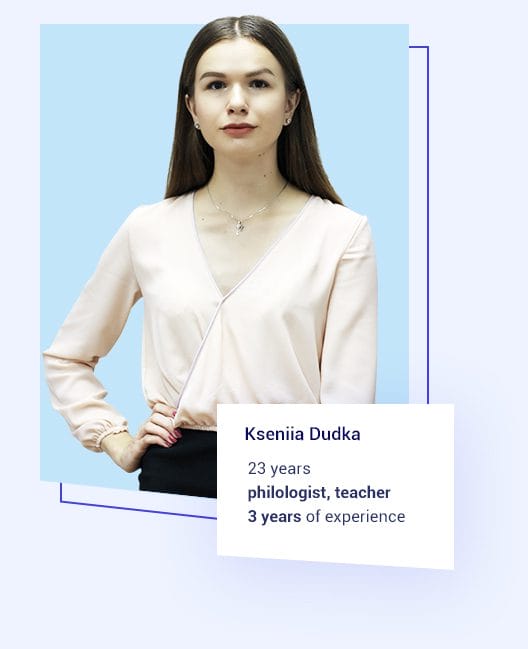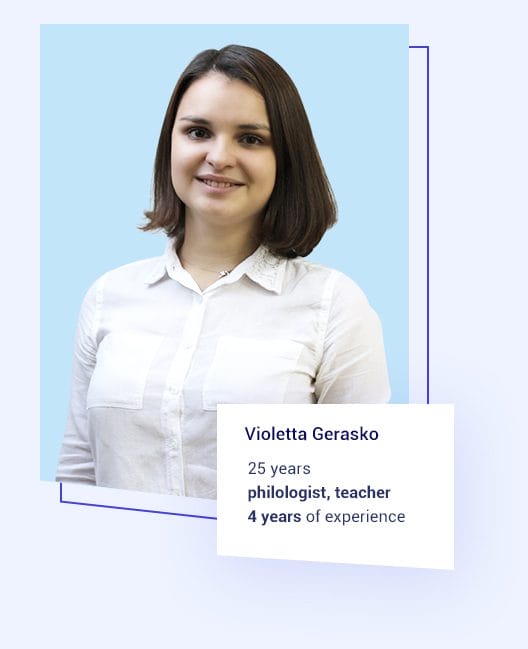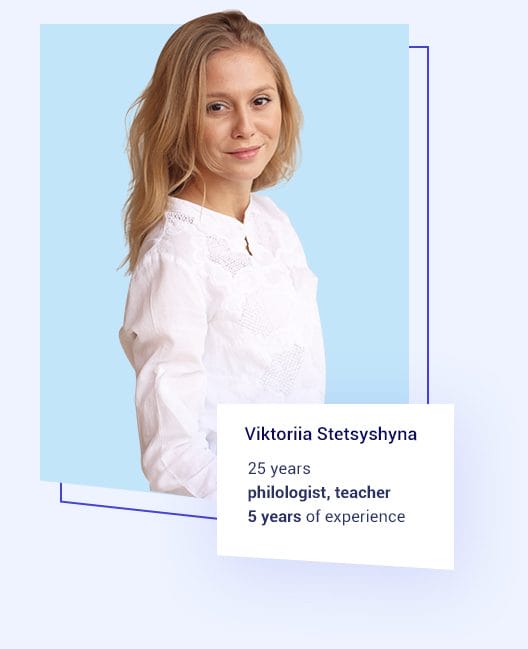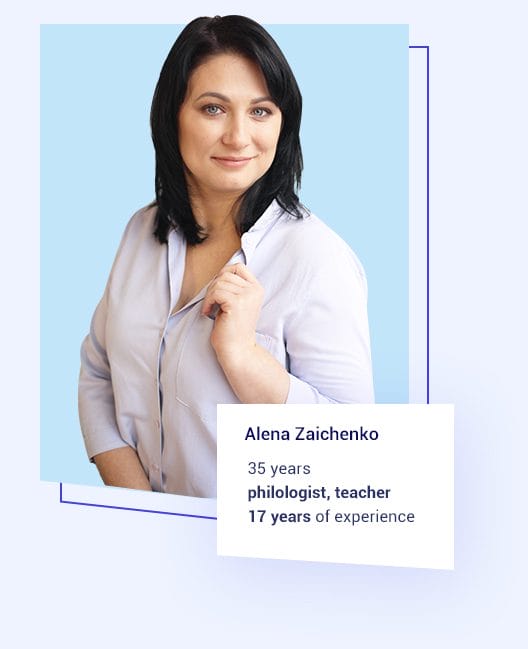 Professionals
They have a philological education, international certificates and many years of experience.
Handpicked teachers
All teachers speak English at a high level and know how to "talk" to a student.
Find an approach
Тo each student and motivate them to achieve their goals in learning English
1

out of
20
candidates are
selected
9
years
of average
experience of our teachers
The knowledge, experience and enthusiasm of teachers make classes effective and fun
Choose student and learning format
Monthly automatic renewal
4 classes/month
$108 per month

Subscription: 1 month
Monthly automatic renewal
1 lesson per week
8 classes/month
$212 per month

Subscription: 1 month
Monthly automatic renewal
2 lessons per week

save 2%
12 classes/month
$313 per month

Subscription: 1 month
Monthly automatic renewal
3 lessons per week

save 6%
One-time payment without autorenewal
20 classes
$504 per package

save 8% + 1 lesson as a gift
40 classes
$981 per package

save 11% + 2 lessons as a gift
60 classes
$1440 per package

save 13% + 3 lessons as a gift
80 classes
$1872 per package

save 16% + 4 lessons as a gift
Monthly automatic renewal
4 classes/month
$160 per month

Subscription: 1 month
Monthly automatic renewal
1 lesson per week
8 classes/month
$317 per month

Subscription: 1 month
Monthly automatic renewal
2 lessons per week

save 2%
12 classes/month
$464 per month

Subscription: 1 month
Monthly automatic renewal
3 lessons per week

save 6%
One-time payment without autorenewal
20 classes
$756 per package

save 8% + 1 lesson as a gift
40 classes
$1458 per package

save 11% + 2 lessons as a gift
60 classes
$2140 per package

save 13% + 3 lessons as a gift
80 classes
$2788 per package

save 16% + 4 lessons as a gift
Monthly automatic renewal
4 classes/month
$61 per month

Subscription: 1 month
Monthly automatic renewal
1 lesson per week
8 classes/month
$121 per month

Subscription: 1 month
Monthly automatic renewal
2 lessons per week

save 2%
12 classes/month
$173 per month

Subscription: 1 month
Monthly automatic renewal
3 lessons per week

save 6%
One-time payment without autorenewal
20 classes
$288 per package

save 8% + 1 lesson as a gift
40 classes
$558 per package

save 11% + 2 lessons as a gift
60 classes
$817 per package

save 13% + 3 lessons as a gift
80 classes
$1062 per package

save 16% + 4 lessons as a gift
Monthly automatic renewal
4 classes/month
$88 per month

Subscription: 1 month
Monthly automatic renewal
1 lesson per week
8 classes/month
$173 per month

Subscription: 1 month
Monthly automatic renewal
2 lessons per week

save 2%
12 classes/month
$248 per month

Subscription: 1 month
Monthly automatic renewal
3 lessons per week

save 6%
One-time payment without autorenewal
20 classes
$409 per package

save 8% + 1 lesson as a gift
40 classes
$792 per package

save 11% + 2 lessons as a gift
60 classes
$1166 per package

save 13% + 3 lessons as a gift
80 classes
$1521 per package

save 16% + 4 lessons as a gift
Choose a teacher from possible categories:
1. Near Native – is an experienced foreign teacher with fluent English
2. Native Speaker – a teacher from an English-speaking country