17.9 CAD / 25 min
31.6 CAD / 50 min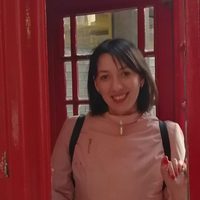 Teaches:
English

Near Native
Speaks:
German, Russian, Ukrainian
Specialization:
General English, ZNO, IELTS, English for Tourism, English for IT, Corporate English, Conversational English
Student`s age:
Teenagers, Adults
Hello! My name is Mariana. I am an ESL teacher. I teach both teenagers and adults preparing them for exams such as IELTS or ZNO, job interviews. I teach General English, Business English as well as English for Travelling. What about my interests, so I am into music, football and languages. My motto is -"There is a will, there is a way." So join me on eTalk platform!
Master Degree 2004-2009 Drogobych Pedagogycal University after Ivan Franko
2018-2022 -worked in an online Skyeng school;
2011-2020 - worked in a state Ukrainian school (Lviv region);
2016-2017 - worked in a private school, courses for adults
Betty is a very good teacher. She is very kind and patient. She is helping me a lot to improving my English skills