7 GBP / 25 min
12.4 GBP / 50 min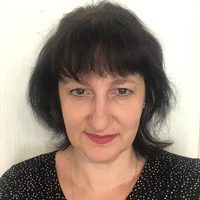 Teaches:
English

Near Native
Speaks:
Rissian, Ukrainian, German, Italian
Specialization:
Aviation English, Corporate English, IELTS, Military English, General English, Conversational English
Student`s age:
Teenagers, Adults
I have been teaching English for 25 years. During my sessions, I mainly use a communicative approach trying to make all the activities of the lesson interactive. I do my best to meet the individual needs of my students and focus on developing the skills they need most at the moment. One of the main conditions of effective teaching, in my opinion, is boosting students' motivation through engaging tasks and lesson activities.
Kharkiv State University named by Ghorkiy, Applied Linguistics Master's degree (1986-1991)
English teacher, Kharkiv Military University (September 1998-August 2004);
Senior English teacher, Kharkiv Institute of Interior Troops (September 2004-September 2015);
Senior English teacher, Kharkiv National University of Air Forces, Department of Foreign Languages (September 2015-December 2017);
Freelance Translator for a Healthcare product, A project dedicated to a healthcare product (June 2018-August 2018);
Senior English teacher, Kharkiv National University of Air Forces, Aviation English Department (January 2018-Present)
Betty is a very good teacher. She is very kind and patient. She is helping me a lot to improving my English skills