15,8 USD / 25 min
26,4 USD / 50 min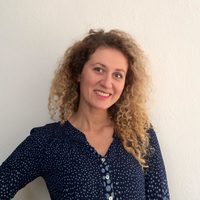 Teaches:
English

Near Native
Speaks:
Croatian, Serbian, Italian
Specialization:
TOEFL, Medicine English, English for Tourism, General English, Conversational English
Student`s age:
Under school, Kids, Teenagers, Adults
Hi everyone!
I am teacher Daisy. I am a certified ESL teacher with over ten years of experience. My teaching style is fun and entertaining.
I love getting to know my students and nurturing them to their fullest potential.
I also have a passion for reaching "that one student" — that one student that struggles to learn, fit in, or believe in themselves.
I am very patient and motivated, and I truly enjoy teaching kids and teens.
In my free time, I read books, enjoy long walks with my family and friends, listen to music or play with my cats.
I am so excited to meet you and have you in my class!
University of Banja Luka BA IN ENGLISH LANGUAGE AND LITERATURE
CARNIVAL CRUISE LINE, MIAMI, FL Youth Counselor, 2015-2019;
OXFORD EDUCATIONAL CENTER, BANJA LUKA, BIH Translation coordinator, ESL teacher, 2012-2015;
ELEMENTARY SCHOOL, TESLIC,BIH Substitute ESL teacher,2010-2012;
ONLINE ENGLISH TEACHER AND TUTOR Since 2009
Betty is a very good teacher. She is very kind and patient. She is helping me a lot to improving my English skills