Learn from anywhere, at any time.
Live 1-on-1 personalized lessons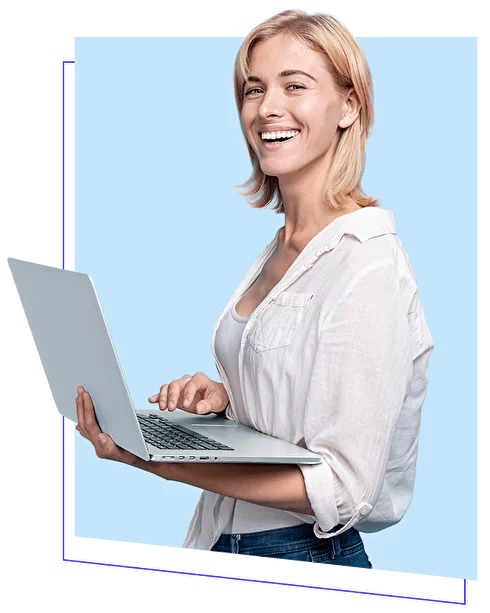 My eTalk virtual classroom
All сlasses are held on My eTalk platform with video, audio, virtual classroom with digital interactive learning materials.
1-on-1 with a teacher
Individual lessons 1 on 1 with a teacher at a convenient time for you. Scheduling, messaging tool, records of past classes, and homework are all available on the platform.
50 minutes for adults,
25 minutes for children
Duration of one lesson. During this time, the maximum concentration of attention is maintained.
Try your first class free
We use a communicative technique in teaching, which allows to learn English many times faster in comparison with other methods. New knowledge is assimilated during a conversation with the teacher.
European standard of education
The program is based on the Common European Framework of Reference for Languages (CEFR).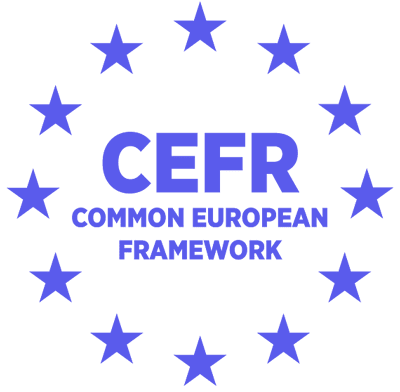 On interactive assignments
Classes are based on interactive platforms and fun. We will provide you with all the necessary materials: engaging homework assignments, pre-lesson vocabulary and grammar activities.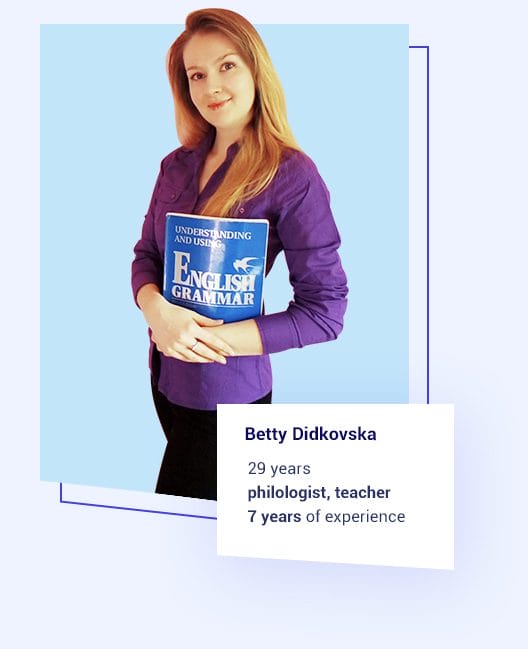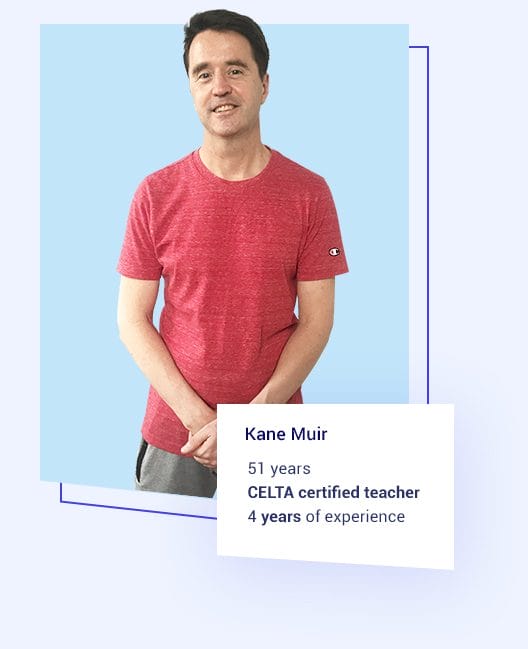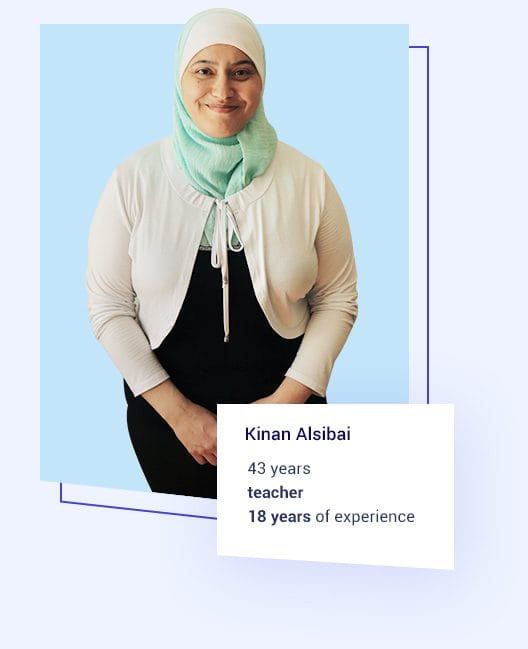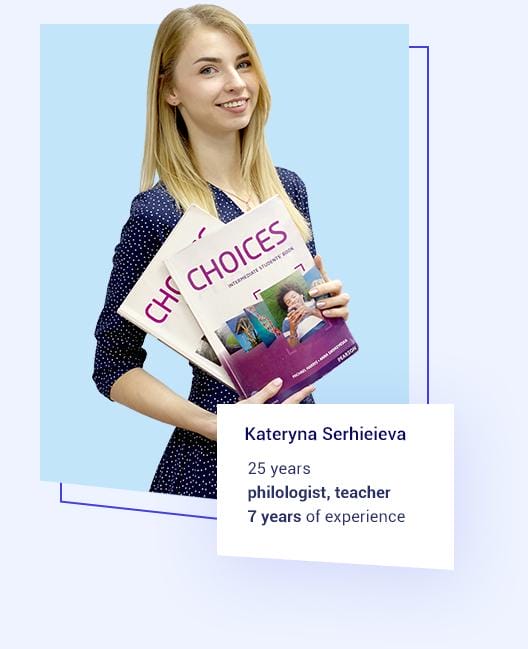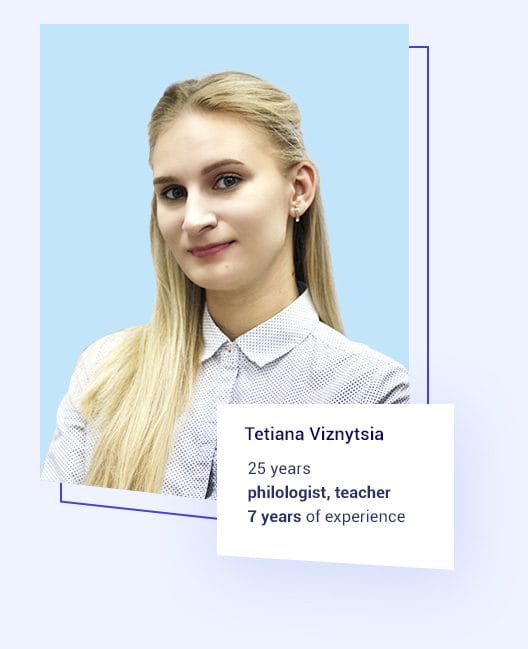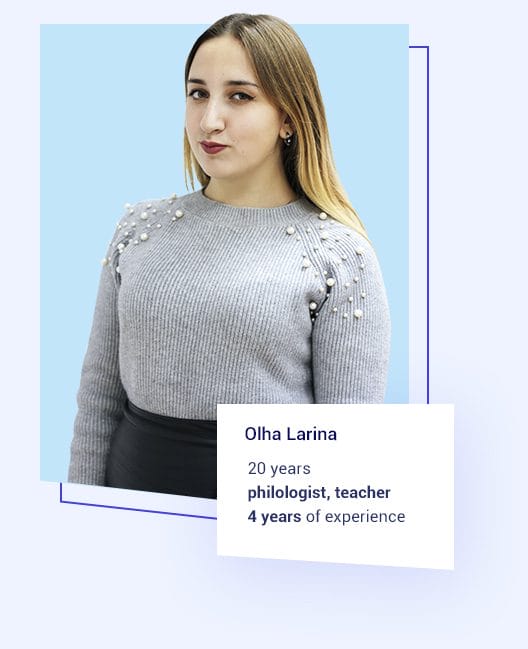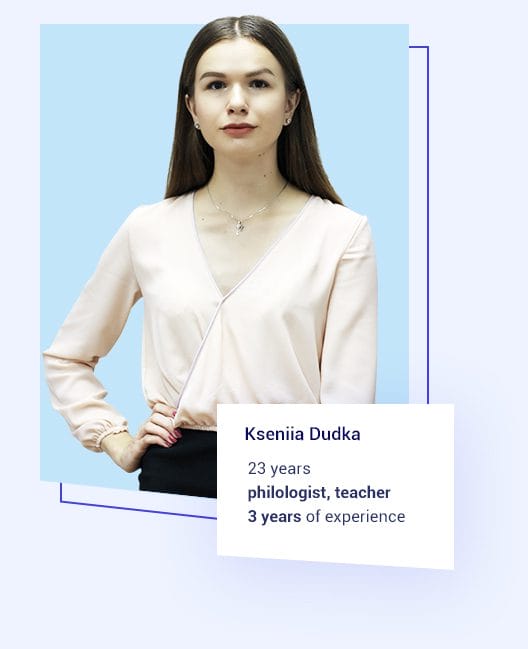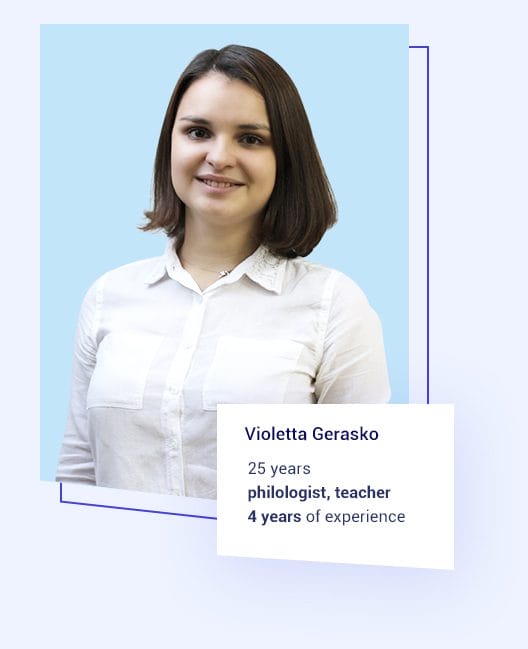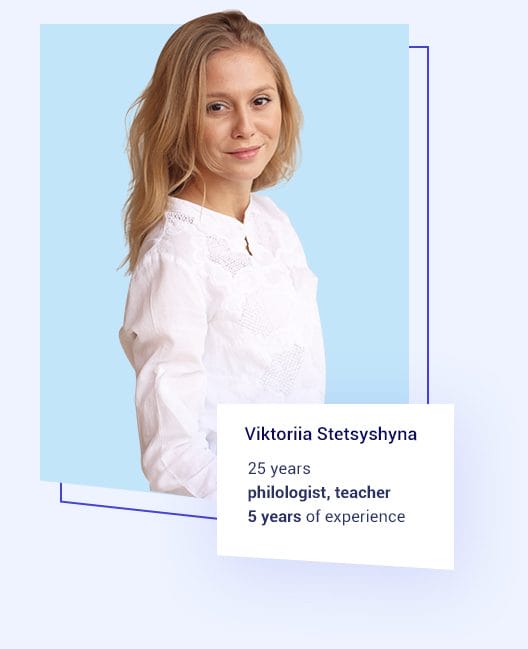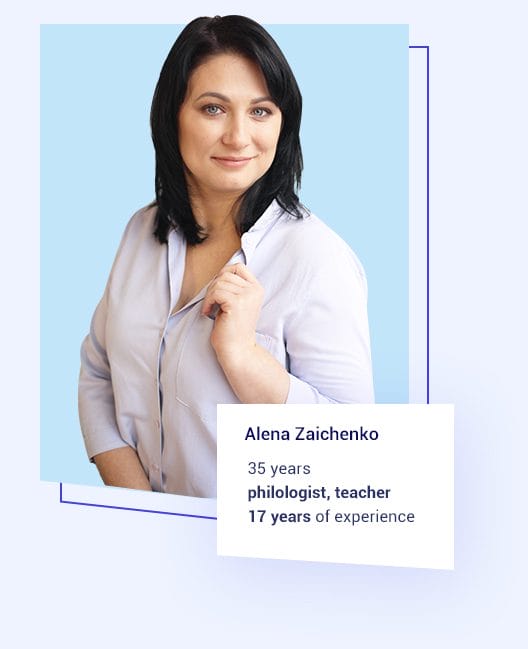 Professionals
They have a philological education, international certificates and many years of experience.
Handpicked teachers
All teachers speak English at a high level and know how to "talk" to a student.
Find an approach
Тo each student and motivate them to achieve their goals in learning English
1

out
of
20
candidates are
selected
9
years
of average
experience of our teachers
The knowledge, experience and enthusiasm of teachers make classes effective and fun.
Choose student and learning format
Monthly automatic renewal
4 classes/month
€114 per month

Subscription: 1 month
Monthly automatic renewal
1 lesson per week
8 classes/month
€223 per month

Subscription: 1 month
Monthly automatic renewal
2 lessons per week

save 2%
12 classes/month
€323 per month

Subscription: 1 month
Monthly automatic renewal
3 lessons per week

save 4%
One-time payment without autorenewal
40 classes
€1100 per package

save 5% + 1 lesson as a gift
60 classes
€1575 per package

save 10% + 2 lessons as a gift
80 classes
€1990 per package

save 15% + 3 lessons as a gift
Monthly automatic renewal
4 classes/month
Subscription: 1 month
Monthly automatic renewal
1 lesson per week
8 classes/month
Subscription: 1 month
Monthly automatic renewal
2 lessons per week

save 2%
12 classes/month
Subscription: 1 month
Monthly automatic renewal
3 lessons per week

save 4%
One-time payment without autorenewal
40 classes
€1770 per package

save 5% + 1 lesson as a gift
60 classes
€2540 per package

save 10% + 2 lessons as a gift
80 classes
€3210 per package

save 15% + 3 lessons as a gift
Monthly automatic renewal
4 classes/month
Subscription: 1 month
Monthly automatic renewal
1 lesson per week
8 classes/month
Subscription: 1 month
Monthly automatic renewal
2 lessons per week

save 2%
12 classes/month
Subscription: 1 month
Monthly automatic renewal
3 lessons per week

save 4%
One-time payment without autorenewal
40 classes
€660 per package

save 5% + 1 lesson as a gift
60 classes
€945 per package

save 10% + 2 lessons as a gift
80 classes
€1195 per package

save 15% + 3 lessons as a gift
Monthly automatic renewal
4 classes/month
Subscription: 1 month
Monthly automatic renewal
1 lesson per week
8 classes/month
Subscription: 1 month
Monthly automatic renewal
2 lessons per week

save 2%
12 classes/month
Subscription: 1 month
Monthly automatic renewal
3 lessons per week

save 4%
One-time payment without autorenewal
40 classes
€1065 per package

save 5% + 1 lesson as a gift
60 classes
€1525 per package

save 10% + 2 lessons as a gift
80 classes
€1925 per package

save 15% + 3 lessons as a gift
Choose a teacher from possible categories:
1. Near Native – an experienced foreign teacher with fluent English
2. Native Speaker – a teacher who was raised & born in the English-speaking country